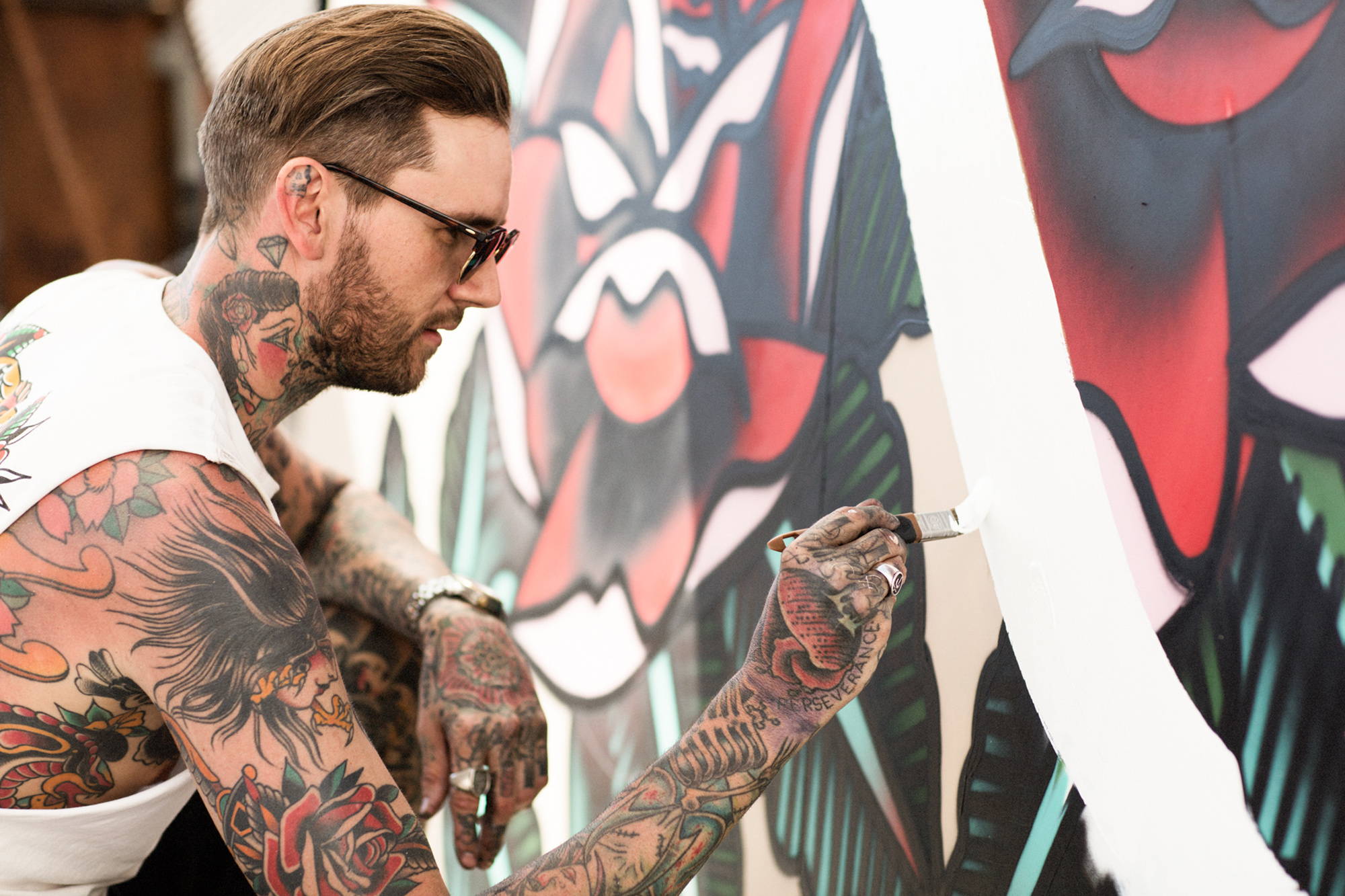 Steen Jones is an artist, dreamer, adventurer and achiever.
With artwork instantly recognisable for his iconic style, Steen has established himself in a highly competitive international market as a creative powerhouse. A maker with passion and originality, an entrepreneur with vision and savvy and a down-to-earth social influencer who has amassed a loyal and impassioned worldwide following.
Hailing from Brisbane, Australia, Steen first began channeling his creativity within the tattoo industry, a stylistic influence that is clearly prevalent in his work today. His bright and bold designs make for collectible and shareable works that bring joy and proudly adorn living room walls, laneways, multi-storey buildings - and even underwear - all around the globe.
Forever the go-getter, Steen has pioneered a career for himself as a freelance artist by creating compelling artworks that transcend any specific medium or industry. He has put paintbrush to paper for Rolling Stone Magazine, aerosol to brick for Delta Airways and marker to shoe for Converse. Other clients Steen has worked with include: Sailor Jerry, Bonds, New Era, Vans, L'Oreal and Red Bull, across a broad range of projects including marketing, branding, tourism and event campaigns.
Having worked in locations from Portugal to Scotland, China to New Zealand, Switzerland and beyond, Steen is always ready to travel for the next great project to excite and challenge him, fusing his hunger for exploration with a relentless dedication to his craft. Internationally recognised as a social and lifestyle influencer, Steen makes a point of sharing not just his artwork with a widespread audience, but also the skill, perseverance and endless good vibes that go into every project he puts his mind to.
Between juggling personal works, founding his own lifestyle label - Few and Far Collective, launching a unique events company - Deathproof, managing pop-up retail spaces and establishing a high-end creative design studio - Few and Far Studio, it's safe to say that Steen Jones is a tenacious, authentic and dynamic artist with the ability to dream big – and do bigger.